The fully automated solution for transparent access management
Join the Orange Side of Life
Whether data security, compliance or cost reduction – there are many requirements for the Access Management of various functions in the company. With its core functions and modular expandability, the Access Manager offers a flexibly scalable solution for your individual catalogue of requirements. In the following you will get to know some application scenarios of the solution for automated permission management.
Freedom for IT Administrators
Reduce the workload on your IT administrators by involving the data controllers and end users in the permission process
Self-service is an integral aspect of the Access Manager, enabling the best possible automation of access management and password reset, which reduces the workload for your IT administrators. The multilingual Self-Service Portal allows end users to request permissions or new directories with NTFS access protection. Data controllers gain a clear and straightforward overview of which users have access to their assigned files and can directly change their permissions or set time limits. This way, they can receive informative reports on the current permission situation at any time – without any involvement of the IT department.
Combining this self-service concept with a comparison of actual permissions with the conditions defined by data controllers enables you to see the who, what, when, where and why for any changes and permissions at any time – including for times in the past. With Password Reset, employees can independently reset their forgotten passwords at any time without the intervention of IT. This eliminates the need for time-consuming authentication processes in the usually very busy help desk and the affected employees are immediately productive again.
The Access Manager thus provides freedom from complicated and frustrating permission assignments or password resets, freeing up time for the really interesting aspects of administration.
Freedom for your IT administrators with self-service
Decision-making by data controllers in the individual departments
Easy applications and permission workflows of access permissions
Combination of profiles and individual permissions
Option of time limits for individual permissions
Self Service Password Reset with up to 7 authentication options
Technical implementation without manual interventions by IT administrators
Instantly clear – even for non-techies
Directly accessible in web browsers – single sign-on
Permanent Compliance with Data Protection Provisions
Protect your data by default and design
The next data protection audit will make you sweat?

When you think of the permissions in your Active Directory will you fear and anxiety?

The implementation of the EU-GDPR is a big issue, but you don't know how to deal with it?
Do you break a cold sweat just by thinking about the permissions in your Active Directory?
The Access Manager establishes the need-to-know principle and enables you to benefit from a permanently reproducible NTFS permission situation according to Microsoft's best practices. All changes to NTFS permissions are automatically logged by the system. This allows you to determine how a given permission situation arose – even after years have passed. No additional workload is created for IT administrators nor the help desk, since permission changes are recorded fully automatically. Thanks to the continuous monitoring of the existing permission structure in the Active Directory and file system, all unexpected deviations are logged and reversed.
What's more, time-limited permissions as well as a process allowing data controllers to regularly review them (Reapproval) offer a redundant system for preventing the unintended expansion of permissions in your organization in the long term. This is not only an important factor within the company structure for compliance issues and risk management, but also for meeting legal requirements such as the Sarbanes-Oxley Act in the financial sector.
Set up data protection classes according to your company's needs and mark your resources as appropriate to provide evidence of EU GDPR compliance in the processing of personal data. Fill in the address description with information regarding processing activities, data collection, and the handling of deletion flags. Combined with the report on the controllers responsible for the addresses, you thus have easy access to an overview of all relevant information for complying with the EU GDPR.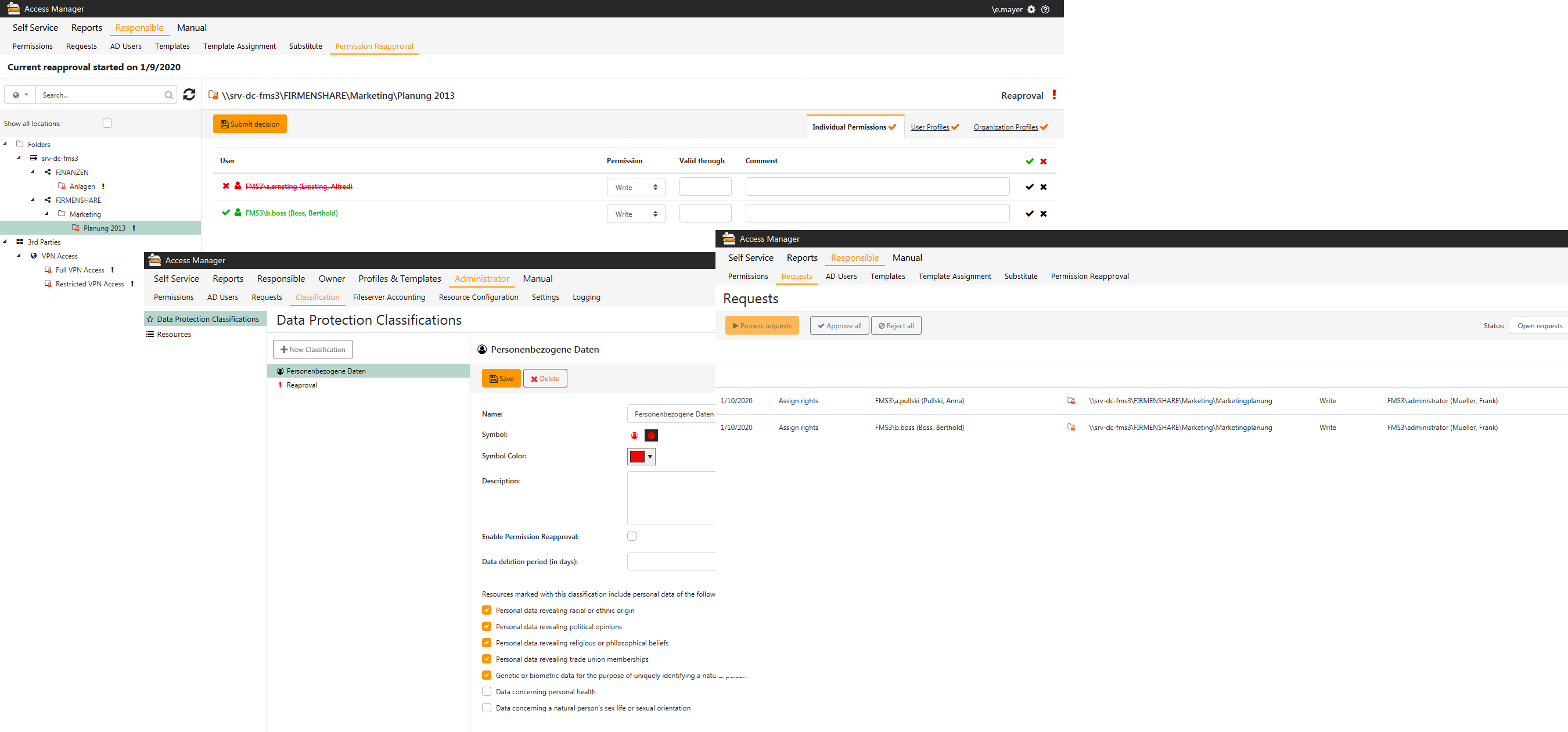 1
Regular verification of permissions
2
Temporal limitation of permissions
3
Configure data protection classes as you like
Meet your compliance requirements now and test the Access Manager for 30 days with no obligation.
Greater Efficiency in IT Infrastructure
Relieve your support and avoid errors due to manual activities
Reduce the workload on your support staff and avoid errors caused by manual tasks
More efficient work with fewer errors
Reduced workload on first and second-level support
No more problems with copying users
Create permission transparency
Update and service level – comprehensive trouble-free package
Mapping of company structures with profiles and personal rightpermissions
The Access Manager allows you to conveniently create profiles for various departments and add existing AD users. Once new user is created and added to the corresponding profile, they will receive the permissions from this profile – with no complicated and inefficient copying from the Active Directory.
Users can quickly and easily request permissions for new and existing directories via the Access Manager's multilingual Self Service Portal.
With Identity Management, you standardize and automate routine tasks in user and access management, as well as in the provision of IT services such as file services, mailboxes, software distribution or telephony. Not only individual tasks, but entire process chains are thus optimized, resulting in a much lower resource usage and error rates than with manual processing.
The Access Manager dispenses with the need for time-consuming process steps when assigning and removing permissions, creating protected directories, preparing analyses on existing access permissions or removing permissions for users moving to a new department or password resets with the module Password Reset.
It's all about the money!
Sustainably reduce your costs in operations
Automate your Access Management processes and achieve significant time and cost savings in the operational area.
Savings potential arises in particular with the service desk/help desk for companies that currently implement changes to file server permissions or password reset manually or only with a limited degree of automation. The Access Manager dispenses with the need for time-consuming process steps when assigning and removing permissions, creating protected directories, preparing analyses on existing access permissions or removing permissions for users moving to a new department or the password reset with the module Password Reset.
The Access Manager organizes all items necessary for access management in the Active Directory (AD). For instance, the system creates or deletes AD groups for reading, writing and browsing permissions and manages the corresponding AD group memberships of users as required. All this occurs automatically, without any manual intervention by your IT administrators or help desk – allowing them to focus on their core tasks.
The AD groups managed by the Access Manager are automatically linked with the relevant directories in the file system and assigned NTFS permissions. File server management exactly as you'd set up yourself – but fully automatic.
Saving time and preventing manual errors
Reduced workload in communication
Self-service for end users and data controllers
Automatic documentation and monitoring
Access management only in exceptional cases
Freedom to focus on other issues